FAA Part 5 Safety Policy Documentation Compliance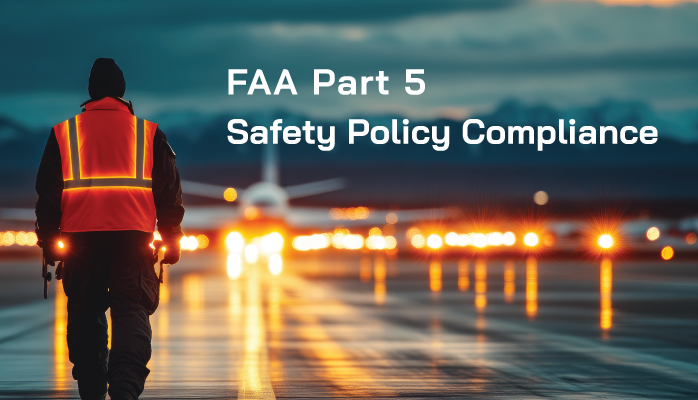 FAA Part 5 compliance for Safety Policy is largely the concern of new aviation SMS implementations for Part 121 operators.
An aviation safety management system (SMS) is logically broken up into components and elements. This logical arrangement makes it easier for safety professionals to organize multiple subsystems within a large, interrelated system of elements.
Safety Policy requirements are mainly fulfilled in the first phase of aviation SMS implementation and reviewed throughout the lifetime of the SMS.
Fortunately, the FAA's Part 5 compliance guidelines on this SMS Pillar are very clear and well outlined.
Related FAA Part 5 SMS Articles
Four Parts of Part 5 Safety Policy
The four parts of FAA Part 5 Safety Policy are:
Safety policy statement (5.21);
Safety accountability and authority (5.25(a)(b));
Duties and responsibilities of accountable executive and safety management (5.25(c)); and
Coordination of emergency response planning (5.27).
These four areas of safety policies are used to:
Define safety performance objectives;
Assign accountability;
Allocate resources; and
Define commitment to safety management.
Overall, various types of documentation are used to fulfill the safety policy goals above. Naturally, larger organizations will need more extensive safety policy documentation, and smaller, simple organizations will need less extensive safety policy documentation.
Here are the four parts of FAA Part 5 Safety Policy pillar.
1 – Safety Policy
The FAA outlines specific items needed in aviation service providers' safety policy statements. Here is what the FAA says should be included – we summarize these requirements into the most easily understandable language:
Safety objectives of certificate holder;
How organization is committed to fulfilling objectives;
Outline of needed resources for fulfilling these objectives;
List of required items for employees to report;
Policy of unacceptable behavior (i.e., conditions for discipline);
An emergency response plan (ERP, see 5.27) that allows organizations to safely meet emergencies;
Safety policy must be signed off by the accountable executive, who is responsible for the safety program (5.25);
Safety policy needs to be communicated to everyone in the organization, such as with required reviews, training, etc.; and
Safety policy needs to be regularly reviewed.
Now, the safety policy should be concise. The purpose of this statement is not to detail "everything" about the SMS implementation, but to provide:
A useful, readable, document for all stakeholders;
The "finish line" of what the company is aiming for in terms of safety; and
A convenient reference document to use to support safety decisions.
As the safety policy statement should be concise, and requires specific, short verbiage, the size of this statement should be similar in both small and larger organizations.
Related Articles on Safety Policy in Aviation SMS
2 – Safety Accountability and Authority
The second part of the Safety Policy pillar is safety accountability and authority. The purpose of this element of the Safety Policy is to map out:
Who is responsible for what;
The flow of safety information within the company; and
The hierarchy of who makes safety decisions.
The Part 5 requirements for safety accountability and authority are that certificate holders define:
Who the accountable executive is;
All members of management that are responsible for hazard identification and risk assessment, risk control effectiveness, safety promotion, or monitoring safety performance;
Employees within the cert. holder's responsibility; and
Levels of management with authority to make decisions of safety acceptability.
These requirements are usually fulfilled by creating:
An SMS organization chart, listing each role in the SMS program and whom each role reports to;
A duties and responsibilities document, which lists each role in the program, and what elements of safety that role is responsible for, such as:

Implementation of the SMS;
Hazard identification;
Monitoring of risk controls; and
Safety performance monitoring.

The accountable executive's unique duties and commitment to developing the safety program.
The keyword here is "roles" in the organization. This is important to understand because even large organizations will have a similar set of roles as smaller organizations. Also, every organization will have a similar number of safety responsibilities. The outcome of these facts is that documentation of safety accountability and authority will be similar in scope for large and small organizations.
Related Articles on Safety Accountabilities in Aviation SMS
3 – Designation and Responsibilities of Required Safety Management Personnel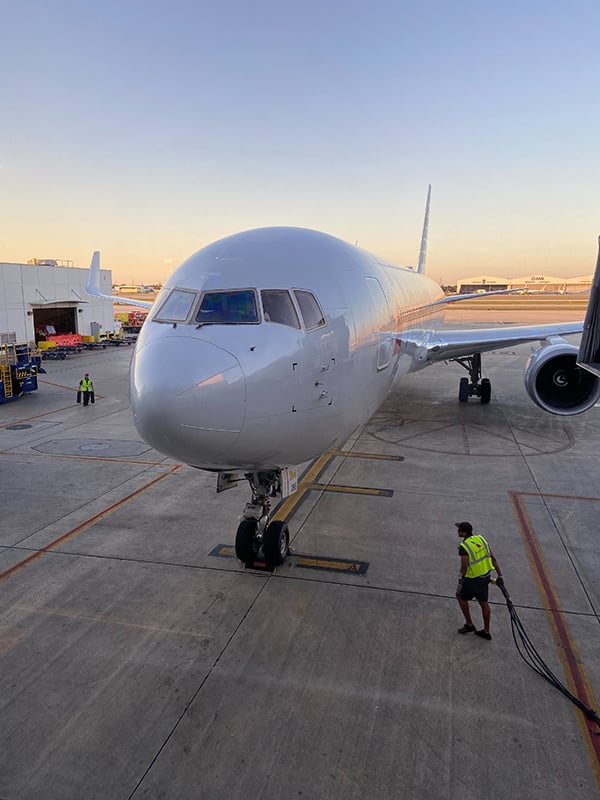 While the requirement is called "management personnel," the first two parts of the Part 5 requirement for this element deals with the accountable executive. In fact, the Part 5 requirements don't seem to indicate any needed output needed by the certificate holder, but rather simply outline how the FAA understands the accountable executive's role in the SMS implementation:
Is the final authority of safety operations;
Controls financial resources;
Controls human resources; and
Is ultimately responsible for safety performance.
The accountable executive's responsibility for these items is:
Ensure implementation of the safety management system;
Develop the safety policy;
Communicate the safety policy;
Review the safety policy to ensure that it's current; and
Review safety performance.
It would be a good idea to include in the safety policy statement how the accountable executive will fulfill these duties.
Related Articles
3.1 – Designation and Responsibilities of Management
Part C of this element of the Safety Policy to ensure the needed safety elements have enough manpower to oversee them. In other words, there is enough management personnel to do what needs to be done.
Documenting who is doing what in the SMS implementation is an excellent way of ensuring that a single role is not overloaded/underloaded with duties. This element requires that the following activities are designated to other managerial roles:
Coordination of implementation, maintenance, and integration of SMS;
Facilitate hazard identification and risk analysis;
Monitor the effectiveness of risk controls;
Ensure safety promotion throughout your organization; and
Regularly report to accountable executives with safety performance information.
Remember that while the accountable executive is "responsible" for the above activities, that does not mean he/she needs to "carry the out." It only means that he/she oversees their status. Many of these activities are carried out by a safety manager, but your organization may have another title, such as "safety officer."
Related Aviation Safety Manager Articles
4 – Emergency Response Planning (ERP)
The last element of the Safety Policy pillar in FAA Part 5 requirements is emergency response planning (5.27). This requirement is fairly straightforward. Aviation service providers should develop emergency procedures that:
Identify the authority of any given emergency type (a good idea is to also include each authority's contact information);
Includes role-responsibility during a given emergency, such as the responsibilities of pilots, cabin crew, etc. during a flight emergency; and
Ensure that your ERP does not conflict with the ERPs of other organizations that you interact with.
The last point requires that you do some legwork by contacting other organizations that you interact with, reading through their ERP, and ensuring that yours doesn't conflict with theirs.
Beyond this, you can create an emergency response plan and document it in a binder. Just makes sure that for compliance your ERP includes:
Each type of major emergency your organization could reasonably expect, such as Fire, Bomb Threats, etc.;
Specific emergencies within that type, such as Hangar Fire, Airport Fire, Gas Fire, etc.;
Authority(s) plus contact information to contact in each specific emergency;
What the duties and responsibilities of each role are during each specific emergency; and
SMS procedures that are relevant to each specific emergency.
Related Articles on Emergency Response Planning in Aviation SMS
Final Thoughts on FAA Part 5 Safety Policy Documentation
The SMS elements under Safety Policy are not overly complex. Nor is there extraordinary attention given to the Safety Policy component if you were to compare Safety Policy to Safety Risk Management (SRM) and Safety Assurance (SA). However, one must not discount the importance of a Safety Policy.
Safety Policy establishes the structure and the accountabilities of the SMS implementation. Without accountabilities and a formal structure that involves upper management, the SMS implementation would be no better than the traditional safety programs we all grew up with.
You may remember these legacy safety programs. Think back on the times when management had no accountability for the safety program. Sure, they may have walked around the operations offering some verbal encouragement to work safely, but beyond that, there was rarely any other involvement from senior management.
Without a doubt, modern aviation SMS implementations have more structure and oversight than traditional safety programs. Modern aviation SMS implementations also have more demanding data management requirements to collect, store, retrieve, and present the SMS documentation requirements.
Early in the SMS implementation is the best time to establish your aviation SMS data management strategy. Remember, your data will be used for many years to come in future predictive risk management activities.
---
If you are still managing SMS documentation requirements in a spreadsheet, I recommend that you consider an SMS database. To learn how your organization can benefit from an SMS database, please watch these short demo videos:
For more information about FAA compliance, you will find these ebooks on FAA Part 5 compliance valuable:
Last updated in May 2023.