Proactive Aviation Safety Managers: Diverse Skills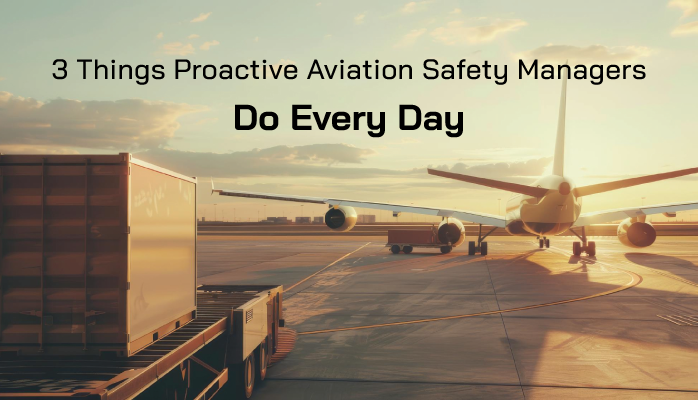 There are many ways to describe what an aviation safety manager does. They are associated with phrases as "plate spinners," "wear many hats," and "task jugglers." For good reason too.
Aviation safety is a complex beast that requires diverse expertise to properly spearhead.
Among other things, safety managers are responsible for everything from:
The skill sets required for such tasks is extremely diverse and requires a particular type of person to practice them effectively.
Honest and Straightforward
If there is one thing I have found consistent with every successful senior safety officer I have met, is that they tend to be honest and straightforward with their opinions. They have to be.
When it comes to safety there has to be:
Hard lines;
Clear communication; and
Obvious expectations.
Honest communication cultivates transparency and builds trust. Moreover, it fosters employees who are more assertive, safer, and more efficient. This is because lack of clear communication is perhaps the most consistent reasons for various safety incidents. When communication and feelings are transparent, misinterpretation of expectations (which is a hazard in its own right) is mitigated and employees can feel comfortable about "where their performance stands."
In the Field Regularly
Safety management is essentially a bureaucratic job. Lots of paperwork. Lots of box checking. Lots of regulation. It's easy – as any safety manager to know – to fall into the "desk" part of the job, and to simply staying put in the office. That is often a quick road to safety manager burnout.
After all, it is in the office where
Hazard analysis is performed;
Tasks are delegated; and
Most other duties are completed.
This is all fine and good, but unless safety managers are in the field they will be missing an important part of the picture for their safety program: the everyday environment that hazard identification and risk mitigation is practiced in.
As another safety manager discusses, one field technician noted that if his safety manager was in the field more often the safety manager would know how infrequent safety harnesses were used. Those are the kinds of safety hazards that managers cannot know unless they are regularly "in the field." And if managers are ignorant about the real world conditions of their SMS, then they cannot possibly properly manage it.
Being a regular face in the working environment of front-line employees does more than simply give aviation safety managers the real world conditions of:
What are the most dangerous pieces of equipment; and
Which practices are the riskiest?
It also lets employees know that safety managers are doing their job, and watching out for their safety.
Related Proactive Risk Management Articles
Delegate Tasks to Others
What we are really talking about is what it means to be a positive leader in a safety management system. A common problem of safety programs that relates to insecurity are:
Managers who sidestep the prescribed program through "old school" methods of dealing with issues;
Managers who try and do too much, which results in bottlenecking; and
Managers who are apathetic about their safety program.
All three areas result in responsibilities that are not distributed to other, capable employees, such as other managers and department heads. Micromanaging is probably the most insidious of all management problems, and safety management systems are no different. Micromanagement is essentially the opposite of proper delegation.
Great aviation safety managers are fantastic about delegating as much responsibility as efficiently possible so that they can focus on the necessities of their aviation safety program. Every program will have different needs, and how things are delegated will differ accordingly. But great safety managers seek out how they can maximize the abilities of other individuals.
It also means being honest about what your strengths as a safety manager are. Some managers will excel in safety promotion, others in performance analysis. Safety managers should try and focus on where their strengths are, and delegate other responsibilities to other managers who are able to complete tasks more efficiently.
Final Thought: Setting Up SMS for Success
The ultimate test of how well an aviation safety manager is performing is when they leave. In the USA, it's not uncommon for safety managers to take week-long trips to Oklahoma or elsewhere for training. Sometimes, safety managers are out of time for considerably more extended periods than that.
Yet when safety managers are gone, if they have done their daily due diligence, their safety program will still thrive even during their absence.
This is because of such programs:
Have habitually been groomed with task delegation;
Are used to open communication; and
Have employees who are certain of exactly what is expected.
Such programs have the type of risk management that all programs aim for.
Safety managers that have good tools spend less time creating reports and documentation. Here is an effective risk management solution that takes your SMS program to the next level.
Published 2016. Last updated in June 2022.