What Does It Mean to "Switch" SMS Program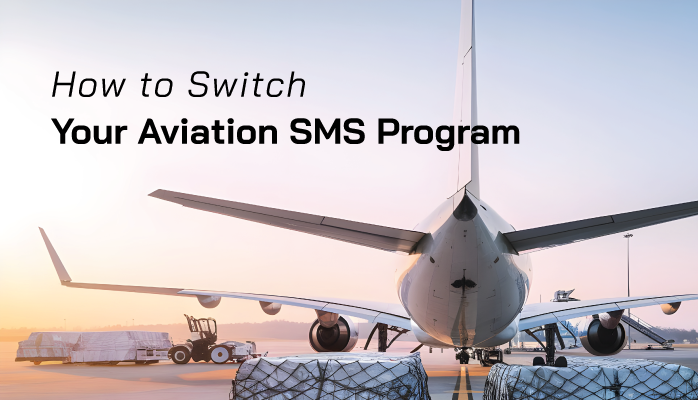 If you're reading this, it means you are considering or curious about what it takes to switch your safety management system. But, what are we talking about when we say "switch" your SMS program. There are a couple of possible scenarios that you should consider:
Integrating existing SMS with entirely new SMS structure (i.e., safety management system software);
Integrating risk management tools that radically change current tools; and
Making major updates and additions to existing SMS.
All three scenarios have one thing in common: major SMS changes. It's a daunting task for several reasons:
Requires significant re-training;
Involves major bureaucratic updates to existing policy;
Potentially expensive; and
Numerous smaller concerns (discussed further down).
Long story short, switching your SMS involves a (hopefully) significant change for the better to your SMS program.
Reason to Switch Your SMS Program
The reasons to switch your SMS program are probably fairly clear to you, such as:
Unhappy with existing SMS tools;
Want immediate boost in SMS performance;
SMS program has plateaued;
Want to raise SMS program to the "next level";
Want to improve risk management processes;
Better management and employee efficiency; or
Trying to boost safety culture.
The list goes on, but the major themes are: improvement, efficiency, and lack of satisfaction with existing SMS. These are all excellent reasons to seek a large change to your risk management program.
And in fact, we can say with certainty that a large number of programs would like to switch their SMS program, but many are reluctant to do so because of legitimate and misguided concerns.
Related Articles on Aviation SMS Program
Main Concerns for Switching Safety Program
The main barrier stopping organizations from switching their SMS is concerns about switching. Some of these concerns are legitimate and undeniable. Other concerns are misguided or ignorant of the actual process of switching.
The most common concerns we see are:
Cost;
Having to re-train employees on the SMS;
Losing data;
Having to make major updates to existing procedures;
Having to do much data entry work; and
Having to make major updates to how management works with SMS program.
Undoubtedly, there are more concerns, but they touch on the concerns we see regularly. Let's consider several of these.
For programs going from virtually no safety budget (i.e., paper forms, Excel spreadsheets, etc.), several thousand dollars per year in extra budget can seem a bit daunting. But this concern doesn't take into account how much overhead time, money, and frustration will be saved by adopting vastly superior and more efficient tools.
Changes SMS necessarily means having to retrain employees, no way around it. That being said, superior modern tools feature initial and recurrent SMS training that is all automated. So of course, there is an undeniable initial training investment in switching your SMS, but in the long run training may be more efficient.
Your New SMS Program Should Adapt to YOUR Needs
Continuing the discussion of concerns, something many safety managers are misguided about is what should happen when they switch the program. Let's make one point very clear:
Whatever new SMS program you adopt, it should adapt to your existing procedures.
This is very important. Switching your SMS does not mean changing it entirely. For example, if you get SMS software, your concern should be how the software can fit your needs, and NOT how you can adapt your program to suit the software.
What Happens to Safety Data When Switching
The other major misguided concern when switching SMS concerns data loss. Safety managers don't want to lose existing hazard reports, etc.
Fortunately, integrating existing data, such as on an Excel spreadsheet, into a modern aviation SMS database is fairly straightforward. For example:
You have an Excel spreadsheet with all reported issue information;
Software companies simply take this spreadsheet, work with you to correctly adapt this information to the right place in the database.
It's that simple. You should be able to switch your SMS with very little data loss. Most data can easily be converted to a more modern format.
How to Switch Your SMS Program the Right Way
Let's keep this brief and simply lay out the basic steps for switching your safety program:
Write out goals for switching SMS, including current challenges you want to overcome;
Establish the ideal budget for switching, and the highest you are willing to spend;
Do research on various safety management system software, and compare features;
Have a list of questions ready for software companies; and
Get demonstrations of different software, always considering how you can adapt the software to your needs.
While making the switch requires a lot of work, it doesn't have to be complicated. If anything, it requires a short term investment for significant long term gains.
---
If you are thinking of switching your SMS program, you might find our demonstration videos very helpful:
Last updated February 2022.