What Is an Organizational Chart's Purpose in Aviation SMS?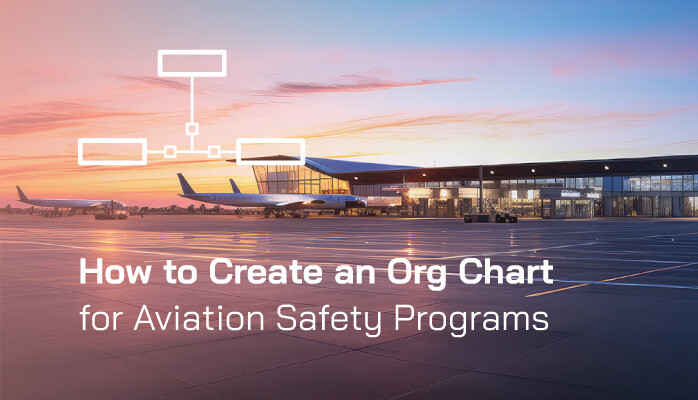 A professional, task-driven safety manager has been assigned to implement an airline or airport's safety program. Under "safety policy" one section of the safety manual requires an Organizational Chart.
Most professionals know an org chart when they see it, but what goes into the org chart for the safety program? What is the easiest way to create this org chart? Why do we have an org chart in the safety management program?
First Things First! What Is an Org Chart?
Organizational charts in aviation safety management systems are simple hierarchical structures depicting key safety personnel and/or departments at your airline and airport. These depictions are common "people in boxes" with lines connecting the boxes to indicate a "chain of command.
Having company personnel illustrated in an org chart visually depicts upper management's commitment and responsibility to the aviation safety program.
Organizational charts have been used in business since the mid-nineteenth century. It is probable org charts originated from the railroad industry.
Best practices dictate that aviation safety program org charts don't have generic labels, but actual employee names. For example, don't simply put "Dept Head" or "Director of Safety" in the box. Place both managers' names and positions in the boxes. An exception may exist when more than three individuals occupy a box, such as front-line employees.
Placing actual names into the boxes leaves no doubt that management has performed the required appointment of key safety personnel for the functioning of the safety program.
At the top of the safety org chart sits the Accountable Executive and at the bottom are typically the front-line employees. Safety managers, department heads, and other safety-relevant divisions fall in the middle of the hierarchy.
Org charts for aviation safety programs must be kept up to date. We recommend that safety teams schedule an annual review of the org chart.
Why Do We Need an Org Chart in Aviation SMS Programs?
What is the purpose of this org chart? Whenever employees need safety-related information, they will know the "chain of command" to follow. In addition, org charts must visually communicate the direct relationship between top management and the safety department. This relationship illustrates the safety department's access to unfettered reporting and direct lines of communication.
All key aviation safety personnel should be included on your airline or airport organization chart. The entire organization will then know who they are and how they fit within the organizational hierarchy. Successful aviation safety programs require clear and concise information and org charts have the innate ability to communicate volumes.
Isolate the Safety Department in Your Aviation SMS Org Chart
Best practices dictate that the safety department is independent of other operational units to avoid conflicts of interest. In short, don't have the safety department reporting to Flight Ops or show the safety department reporting directly to an operations manager.
Steps to Create the Aviation Safety Organizational Chart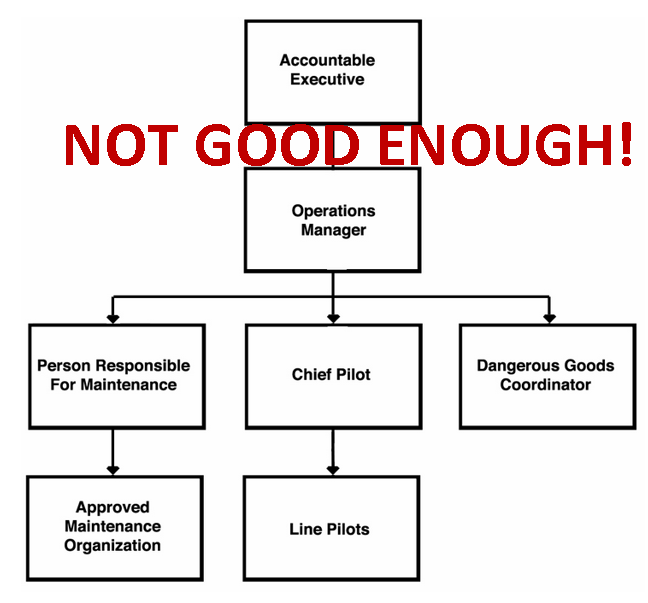 1) Find a suitable tool. Recommended options include:
MS Word (with drawing features);
Visio;
MS Excel; or
MS PowerPoint.
2) Place a box at the top and enter the CEO or President or Accountable Executive's name and formal position.
3) Next to the top box, add another that is a bit lower on the left or right. Enter either the "Aviation Safety Manager" or "Director of Safety's" formal title and name.
4) At the same level (or lower yet for effect), add the unique departments or divisions of your airline or airport. Be sure to include the manager(s) name with the formal position title. Simple organizations will have department names here.
5) For complex organizations, another tier may be required to illustrate the department and the respective head of the department. Otherwise, simply add a box directly under the last tier and include "employee positions."
Note: Since front-line employees typically have a higher turnover rate, don't bother entering names. Managers are typically employed at airlines or airports for several years; therefore, your aviation SMS org chart won't require many changes as the years pass.
Final Thoughts on Org Charts for the Safety Program
Organizational charts are a requirement. Don't fret if you don't get it perfect the first time. Review your org chart and revise it when necessary.
From experience, the org chart sitting in the dusty SMS manual is next to worthless. Your org chart must be easily accessible by all employees. Best practices hold that the org chart should be available online in your airline or airport's safety portal.
Don't make employees hunt for your org chart. We believe the org chart deserves a separate menu item in your safety portal. If you want to put your org chart into your SMS manual, do that also. But DO NOT simply put your aviation safety org chart into the SMS manual and expect users to find it.
What are your recommendations for posting org charts at your airline or airport?
---
Are you interested in seeing how good tools can add value to your aviation safety program?
Are you just starting your SMS program? You will definitely need some hazard reporting and basic risk management tools. Here are three videos that will help you understand your needs.
Last updated in June 2023.