Do You Really Understand Safety Risk Controls?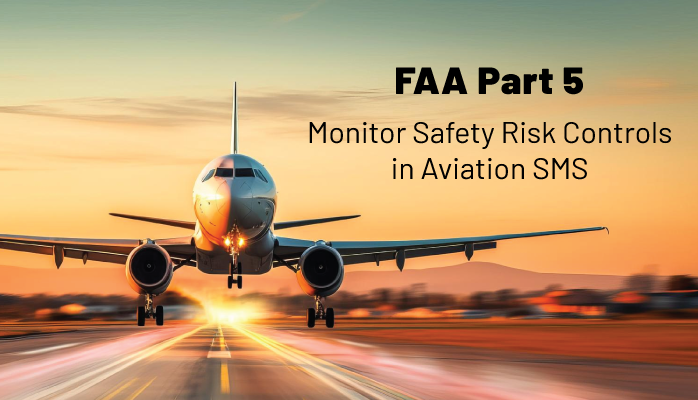 FAA Part 5 - Safety Management Systems has a subtle, but important requirement stuck in subsection 5.25 Designation and responsibilities of required safety management personnel. There is a subsection that packs a dynamite punch that should leave most of you reeling with uncertainty.
This requirement is buried in the subsection 5.25 (c) Designation of management personnel and deals with monitoring the effectiveness of safety risk controls.
Experienced SMS professionals pass this by as a rather simple requirement, but there is a lot that does not meet the eye of a layperson. The first couple of times I read Part 5, I didn't pay much attention to safety risk controls in this section because subsection 5.25(c) deals with the accountable executive appointing qualified personnel.
Related Aviation SMS Risk Control (Control Measures) Articles
Unless the accountable executive knows what is required, how will he know what type of person and tools he must make available to satisfy this requirement?
We will look at the steps necessary to manage and monitor your safety risk controls. And this is important: you have to know where to find and document your safety risk controls in order to monitor them, right?
What Is This Safety Risk Control Requirement?
To help understand this full story, we will skip the obvious and assume you know what the FAA 14 CFR Part 5 regulation is. Our purpose is to analyze Part 5 and help to illuminate what is really required in the legislation. So let's assume you also don't have Part 5 handy. I'll give you a quick refresher:
Subsection 5.25 Designation and responsibilities of required safety management personnel

...(c) Designation of management personnel. The accountable executive must designate sufficient management
personnel who, on behalf of the accountable executive, is responsible for the following:....(3) Monitor the effectiveness of safety risk controls.
In order to monitor the effectiveness of safety risk controls, our next logical step is to learn "what are risk controls?"
Definition of Risk Controls
To make this part easy, we'll simply slide back to subsection 5.5 Definitions.
Risk control means a means to reduce
or eliminate the effects of hazards.
Isn't that cute how they used the words "means a means?"
Well, what is really important is the "means to reduce or eliminate the effects of hazards."
The short point here is that in order to monitor the effectiveness of risk controls, the safety manager (or a person appointed by the accountable manager), must do a lot of leg work and documentation in order to get to these beautiful risk controls.
Where are these risk controls? Where are they documented? How are they monitored? Who is assigned to monitor these risk controls?
So let's learn how to do this.
Related Aviation SMS Risk Control (Control Measures) Articles
You Need to Start with Hazards to Eventually See Risk Controls
Unfortunately, risk controls are not simply lying around the airport for you to pick up or inspect. You will need to identify risk controls, but in order to get your risk controls monitored, you have a lot of work to do.
Don't be alarmed, safety manager. This is more work here than you are qualified to handle. You will need the participation of other upper-level managers who are subject-matter experts in their respective area of operations.
To start the ball rolling, you will need to do a proactive hazard identification and safety risk analysis, which is basically an exercise of listing all your operational hazards and identify all hazard-related consequences.
Put all your hazards into a list.
It helps if you can categorize them by category and even subcategory. This allows an operational department head or assigned manager to focus on all the hazards that are in his area of expertise.
For example, a typical breakdown of hazard categories in an aviation hazard identification and risk analysis tool of a common aviation SMS database may include: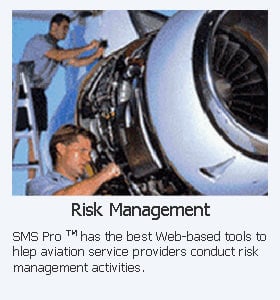 Air Operations;
Airport;
Environmental;
Flight Ops;
Ground Ops;
Human;
Maintenance;
Organizational; and
Security.
Since every aviation service provider is unique, they are expected to have valances. However, this is a great starting point.
In the Ground Ops category, we can add some subcategories, such as:
Aircraft Preparation;
Fueling;
Movements;
Runway; and
Wildlife.
And finally, underneath these subcategories, you will be listing out your hazards.
Related Aviation SMS FAA 14 CFR Part 5 Articles
Safety Risks Are Associated with Hazards
As you list your hazards, don't feel as if the list has to be perfect. The hazard register will always be a living, breathing SMS element.
You will be updating this hazard list for many years. The important part is getting a start on this hazard list and getting some sort of order to the list. Items in this hazard list form the aviation SMS' hazard register, which every aviation SMS auditor is itching to see.
For every hazard in the list, you will want to create a list of all credible risk scenarios. That is, what could possibly go wrong and what is the potential damage? These risks are important!
These identified risks are the ones for which you will be identifying your safety risk controls. Your safety risk controls are also known as "control measures."
How to Monitor Safety Risk Controls
Now that you know where safety risk controls are coming from, you still have the task of monitoring them. Monitoring safety risk controls can be done automatically and continuously when you have the proper risk management tools.
Most immature aviation SMS do not have adequate SMS database tools to do this easily. Without proper tools, a manager could be spending three to four weeks each year monitoring safety risk controls.
What is the process to monitor safety risk controls?
To keep it short and simple, let's take this simple workflow:
A safety issue is reported;
Reported safety issue is risk assessed;
Reported issue is classified (by associating the issue with identified hazards from hazard register);
Safety risk controls are evaluated;
Corrective/preventive actions are implemented when warranted; and
Additional risk controls added as necessary.
To monitor safety risk controls, you will need reports of these risk controls' effectiveness. As the year progresses, reports are generated as needed. Basically, you are looking to see whether the safety risk controls are doing what they are designed to do.
As you are monitoring the performance of the SMS, risk controls should be reviewed:
Whenever the associated hazard is reviewed;
Whenever proposed changes to a related system are considered;
Quarterly, semi-annually, and annually to identify substandard safety performance of risk controls in system.
A common misconception is that risk controls are evaluated whenever management of change project is initiated or during an annual review. This may not be frequent enough. Whenever employees report safety concerns or audit findings enter the Safety Assurance (SA) phase, risk controls should also be reviewed.
Related Aviation SMS Risk Control (Control Measures) Articles
Final Thoughts on Monitoring Effectiveness of Safety Risk Controls
Depending on the size and complexity of your operation, you may have many reported safety issues. Healthy safety reporting cultures will have one issue reported each month for every ten to twelve employees. If your safety reporting numbers are not near this, you do not have a healthy safety reporting culture.
Each safety report should be associated with a relevant hazard. To manually track hazards and their respective safety risk controls, you will have to either:
Be highly organized; or
Have user-friendly aviation SMS database software.
Even if you are highly organized, your successor may not be. Furthermore, every safety manager takes vacations and if your alternate is unable to monitor safety risk controls effectively, your aviation SMS has a big risk that needs to be managed.
Since 2007, we have been working on SMS Pro to satisfy SMS documentation requirements. If your SMS is not organized, your chances of audit findings increase. Furthermore, the more disjointed the SMS data management strategy, the greater the risk to the accountable executive.
For every SMS implementation, the accountable executive is responsible for making sure the SMS is properly implemented and performing in all areas of the organization. In order to fulfill this responsibility, the accountable executive will need to regularly review organizational safety performance. Whenever substandard safety performance is identified, the accountable executive is responsible these shortcomings are addressed.
The most effective way to reduce this risk is by using a low-cost, commercially available SMS database to manage SMS documentation requirements. To learn whether you can benefit from SMS Pro, please watch these short demo videos:
Live SMS Pro Demo
Want to see SMS Pro live? Have questions? Sign up for a live demo.
Last updated June 2023.