How to Use Hazard Reporting Forms in SMS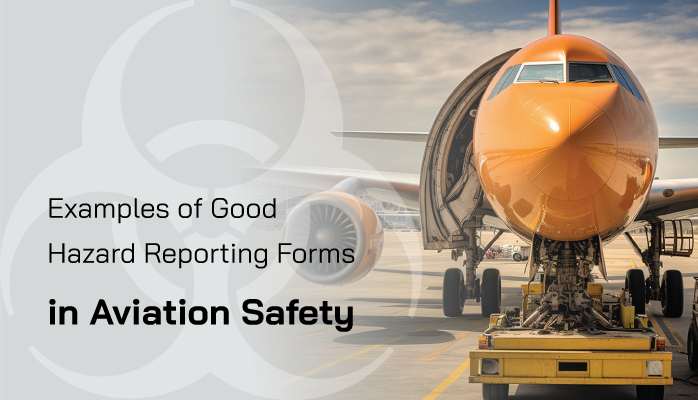 You can't really overestimate the value and usefulness of having high-quality hazard reporting forms.
Hazard reporting underpins your ability to acquire data, which is the basis of most of the continuous improvement changes you make to your aviation SMS.
Good hazard reporting forms provide:
Guidance for employees when reporting issues;
The framework for the types of data you want to gather;
Incentives for reporting issues; and
A useful tool for building hazard reporting culture.
The quality of hazard reporting forms depends on the form fields that are included in the form. Good forms have:
Enough fields to capture a detailed list of facts about the issue;
It is short enough to be easy too quick to report; and
No extraneous or irrelevant form fields.
Here are examples of good hazard reporting forms and the form fields that they might include.
Information That All Hazard Reporting Forms Should Have
First, there are some pieces of information that all hazard reporting forms should have. These are basic data that are useful to know about every report:
A title for the issue that is being reported;
A narrative of the issue, such as "what happened;"
Date of occurrence;
Date of the report;
The person reporting (if not confidential);
Any actions are already taken to correct the issue;
Relevant location;
People involved;
Aircraft/Vehicles involved; and
Any relevant attachments, images, etc. (if cloud-based reporting).
This information will be useful in every single report. In your organization, there may be additional things worth having on every form as well.
Related Articles on Hazard Reporting in Aviation SMS
Form Fields to Include on Airport Safety Report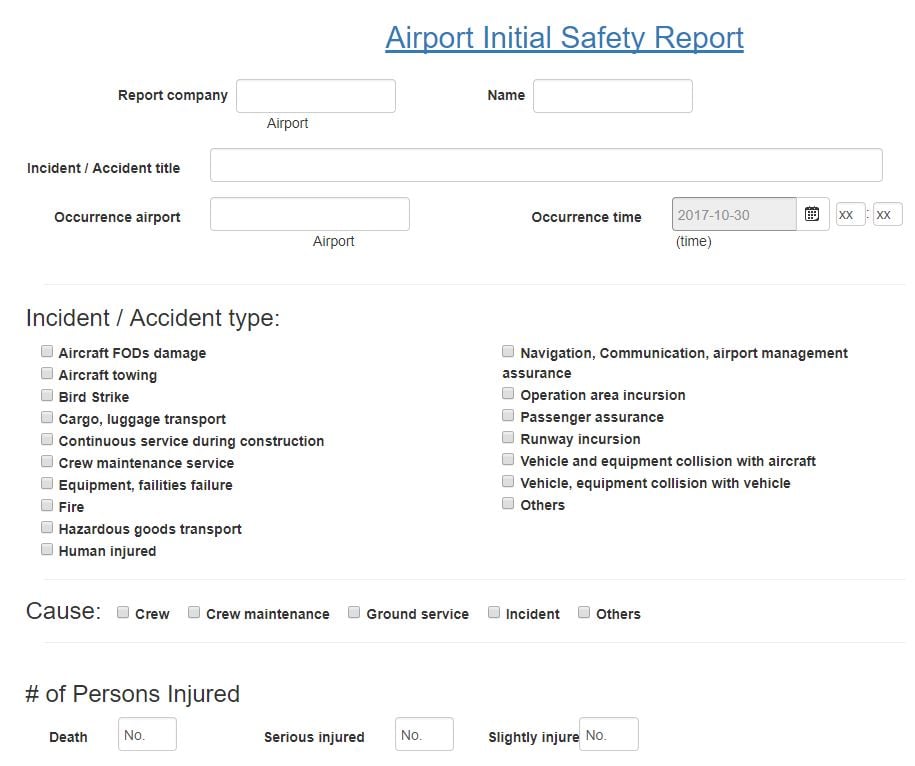 Airport safety forms are useful for airports, naturally, but also for private operators on private runways, client facilities, or operators who may experience "airport-like" issues.
Form fields to have on such a form would be:
The company reporting (there are probably multiple subcontractors working in such an environment);
The airport (if you work on multiple airports);
Incident Type (selecting one of the following):

FOD damage
Aircraft towing;
Cargo transport
And so on, listing all relevant types of issues at your airport

Cause, such as the crew, maintenance, ground service, etc.
Number of persons injured based on seriousness (death, serious, slight);
Responsibility, whether it's the airport's responsibility, not the airport's responsibility, or not confirmed yet; and
Incident level, such as accident, potential accident, etc.
Form Fields to Include on Cabin Safety Report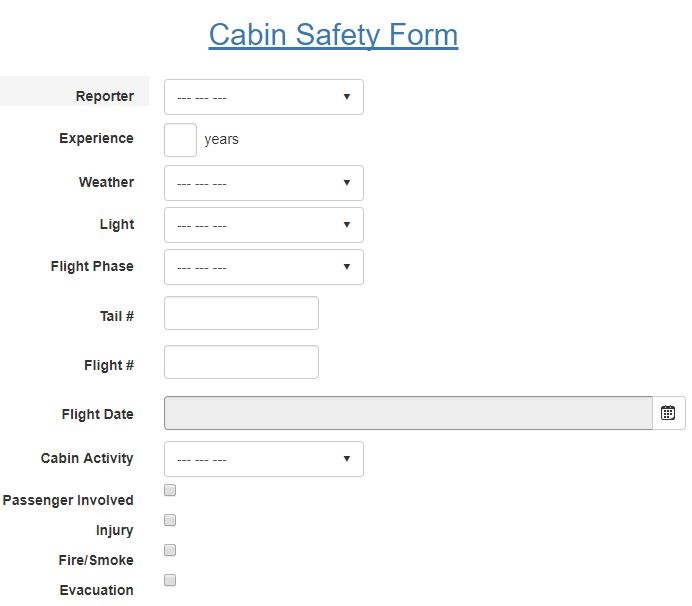 Cabin safety reports are critical reports for aircraft operators. They allow the cabin crew to report issues that are specific to their operations. Good form fields for these reports are:
Crew names and experience;
Weather
Light;
Flight phase:
The tail number of aircraft;
Flight number;
Flight date;
Cabin activity during the incident;
Passengers involved?
Injury resulted from the incident?
Fire/smoke involved?
Evacuation required?
Form Fields to Include on Captain's Trip Report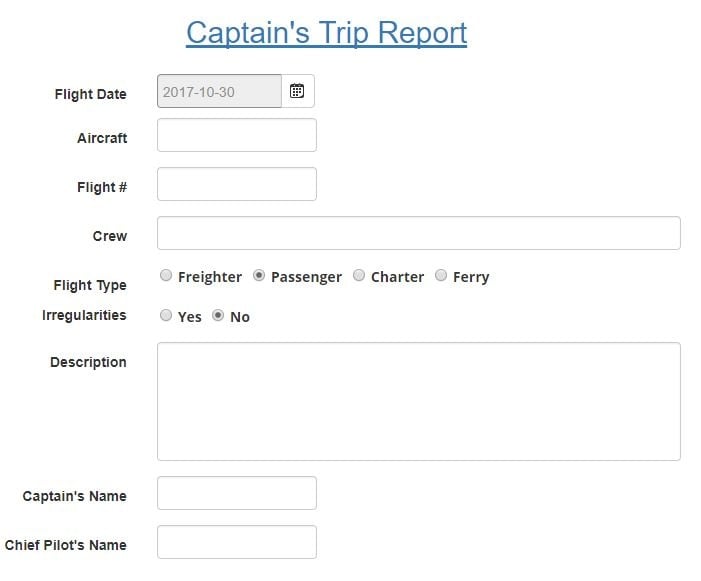 Like cabin safety reports, captain's trip reports are also very useful for aircraft operators. They provide captains and second lieutenants an opportunity to report issues that are specific to flying aircraft. Captain's trip reports should include form fields like:
Aircraft number;
Flight number;
Crew on aircraft;
Flight type;
Irregularities? If so, what?
Captain's name; and
Chief pilot's name.
Form Fields to Include on Maintenance Report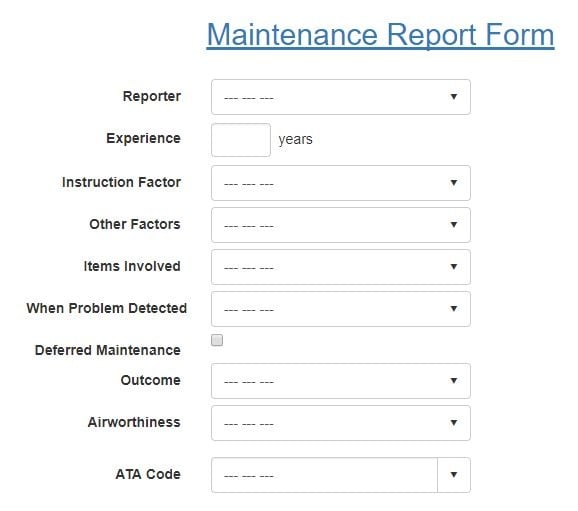 Because nearly all aviation service providers will interact with aircraft or machinery on some level, maintenance reports are nearly ubiquitously useful in aviation SMS. Good form fields to have on these reports are:
Experience of relevant persons;
Lighting;
Weather;
Items involved;
When during maintenance the problem was detected;
Whether maintenance was deferred;
Outcome;
Airworthiness;
Mission; and
ATA code.
Form Fields to Include on Security Officer Report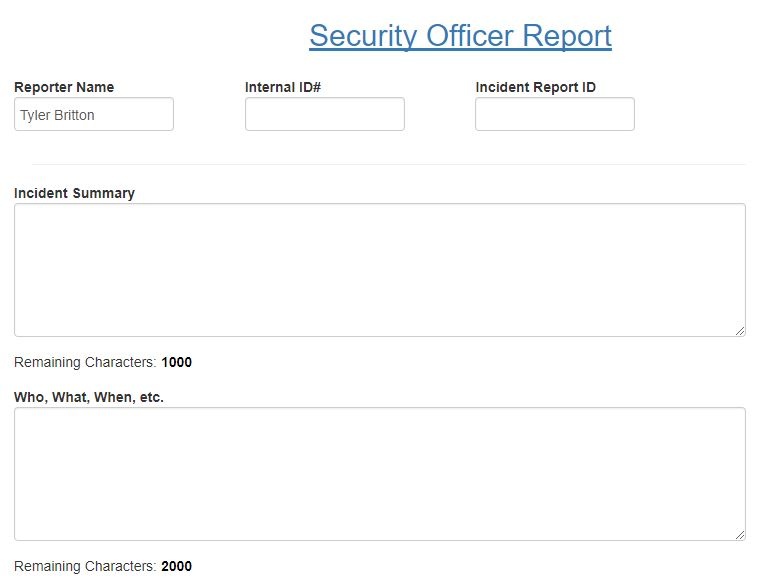 Many aviation service areas have designated security teams or officers who manage security. These reports are very useful and surprisingly simple, needing fields for:
Who was involved, such as clients, ground operators, etc.;
Location;
Incident type;
Security officer comments about the incident; and
Submitted as an issue?
Form Fields to Include on Air Traffic Control Report
Like security officer forms, air traffic control forms are a niche type of form that is extremely necessary for ATC operators. They too only require a few necessary form fields:
Altitude;
Miss distance if applicable;
Was evasive action taken?
TCAS factor?
Conflict alerts active?
There may be other necessary fields depending on the airport.
Last updated June 2023.