Customizing Your SMS Implementation Plan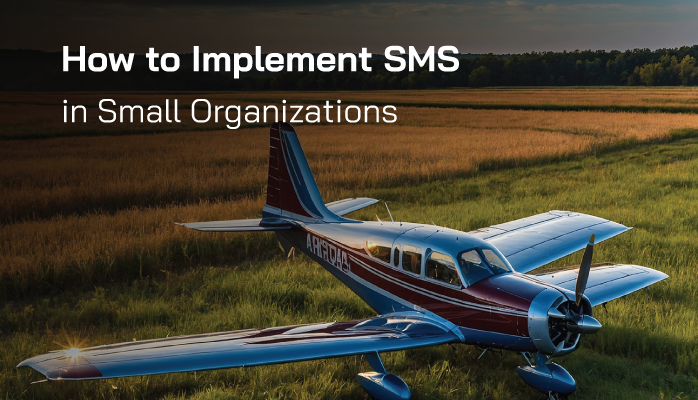 Aviation companies of all shapes and sizes can benefit from a safety management system or SMS, but when faced with implementing one, small organizations can easily find themselves overwhelmed by the requirements.
In its Safety Management Manual (SMM) the International Civil Aviation Organization (ICAO) proposes a phased approach to SMS implementation. While this approach may work well for large organizations, it doesn't seem to have been developed with small aviation companies in mind.
For example, if you don't monitor flight data it could be impossible to perform any predictive analysis, a transition called for in the ICAO's implementation plan.
So, how can smaller Organizations implement an SMS that meets the legal requirements and improves safety performance?
Where to Begin
If you're just getting started, familiarize yourself with SMS requirements by consulting appropriate regulatory and industry documentation, such as that from the FAA or CASA which are freely available online. You can also click below to check out our free resources for your new SMS.
Next, select the specific activities that will allow your organization to meet the requirements. Make sure to plan for training, reporting, and monitoring.
Look for creative solutions. Perhaps you can't perform strictly predictive safety data analysis, but you might find industry data and knowledge-sharing groups, or actively look for safety information from the media.
Based on your solutions, you're ready to craft your custom implementation plan. These three vital components will help you get started.
3 Vital Components
Start with the delivery of training courses. Training will help to foster a safety culture that takes years to develop. Most courses emphasize the importance of the safety culture early on, which will help to support your implementation plan.
Ask yourself vital questions. Who will conduct the training? What topics will it cover? Where will the training happen? When? How?
Next, how will you implement internal safety reporting systems? One of the best ways is to use commercial off-the-shelf solutions that require little customization. These solutions will do the heavy lifting for you but don't forget you'll need to educate your team on how to use them.
Finally, include provisions for safety performance monitoring. In the beginning, determine safety performance indicators (SPIs) concerning the progress and consistency of implementation and note how they will be tracked.
Related Aviation SMS Implementation Articles
Final Thoughts
When aviation Organizations are unable to meet the sophisticated phased approach intended for large Organizations, implementation plans can and should be customized.
These plans should focus on delivering training, implementing reporting systems, and making provisions for safety performance monitoring.
With these three components in place, small aviation organizations will be well on the way to implementing a functional SMS to keep their employees and customers safer every day. For some extra inspiration, check out these free SMS implementation plans.
Last updated in September 2023.