Weigh Aviation SMS Consulting Pros and Cons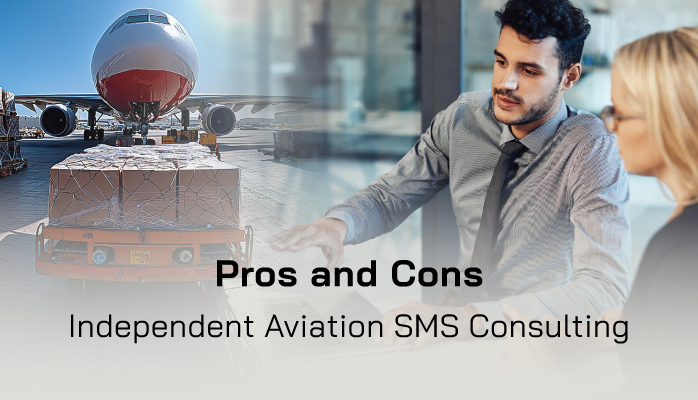 Aviation SMS consulting is for professionals who choose to independently contract custom SMS solutions for clients.
SMS consultants have differing roles in their clients' SMS, depending on the needs of each organization they partner with.
Consultants generally have many years of aviation SMS experience, and are equipped with the network and knowledge to provide solutions to diverse needs.
Many aviation SMS professionals consider with varying degrees of seriousness to embark on the road of aviation SMS consulting. There are certainly many alluring things about becoming an SMS consultant – namely the type of freedom and lucrative possibilities that SMS consulting can offer.
Despite the potential benefits however, the fact is that most professionals in aviation safety never venture into the realm of independent contracting/consulting with airports, airlines, and other aviation service providers. This may primarily be because aviation SMS jobs are, generally speaking, extremely stable with very good benefits. Leaving such comforts can be scary and risky.
For aviation safety managers and other professionals who are considering independent consulting, here are the pros and cons of embarking on the path of aviation safety consulting.
Pros of Being an Aviation SMS Consultant
Being an aviation SMS consultant has several extremely alluring upswings – i.e., the glamorous life of aviation SMS consulting. The following bullet points of the pros of SMS consulting look too good to be true:
You are your own boss;
Potential to make significantly more money;
Tax benefits; and
Authority of being an expert.
There is an undeniable status equated with "consulting" for the very reasons listed above. Consultants are often at the top of their industry, and therefore ideally get to "choose" who they work with, and set their own rates. Private contractors (i.e., consultants) make on average 20% to 40% more than their employee equivalents. Considering consultants are providing senior level work, those percentages translate to quite a pay increase.
Moreover, because consultants are paid more than an employee counterpart, managers of their client's organizations will expect them to be the SMS expert – which means that consultants have the pressure and prestige of being the go-to person for the most important SMS decisions, and will be taken seriously.
Cons of Being an Aviation SMS Consultant
Of course, if aviation SMS consulting were that good then more professionals would be delivering their resignations in order to work for themselves. As great as being an SMS consultant can be, many consultants will struggle with:
Lack of job security;
Lots of travel;
Lack/cost of health benefits;
Stiff competition; and
Liability of juggling clients and heavy responsibility.
The ugly fact is that being a consultant comes with prestige for a reason – your competition is literally some of the best aviation safety managers in the business. To be a successful aviation SMS consultant, you have to be better than the best. It's also for this reason that most consultants have a ton of experience, contacts, tools, and resources in aviation safety management systems.
Top consultants will have the precious few "golden ticket" clients – i.e. larger airline service providers, airports, etc. This leaves the rest of the potential client pool for SMS consultants to fight over. And as one new SMS consultant recently told me, "It's not stable."
The pressure of SMS consulting comes from both the need to find new clients and at the same time deliver high quality solutions for existing clients. Consultants will often be the sole SMS point of contact in an organization, and many people will depend on him/her. Both of these pressures can easily translate into a significantly increased workload.
How to Weigh the Pros and Cons
Knowing if SMS consulting is right for you simply means being realistic about:
The quality of knowledge, tools, and safety management system resources that you can provide;
Your available contact base (i.e., ability to network);
Your willingness to risk career-security in search of a lucrative opportunity; and
How much your personal career values and strengths line up with what is required for consulting.
In general, aviation safety professionals who are willing to work more, have a great deal of SMS knowledge, are prepared (or able, such with retired professionals) to move into consulting, and don't mind the travel or lack of job security are ready to make what could be a great career move in the aviation industry.
Final Thought: Is SMS Consulting Right for You?
What matters more than anything is whether consulting is right for you. One SMS manager I know recently tried consulting for the second time in his life, and enjoyed the fruits of his hard labor for a couple of years before deciding he was ready for something more stable. Another SMS inspector I know is patiently building his network and tools, and has decided that early retirement plus consulting is the best risk-benefited path.
Deciding whether or not aviation SMS consulting is right for you means answering:
What are your career goals in SMS?
How much do you value job security?
What is your preferred work/life balance?
How do your skills as a safety professional measure up to the rest of the industry?
Answers to even these four questions should give you a pretty good idea of whether consulting is an option for you at this point in your career.
---
Aviation safety consultants have to be familiar with the best aviation SMS tools in order to offer solid advice to their clients. Are you familiar with SMS Pro's features, such as:
Hazard Reporting;
Risk Management; and
Safety-Quality Assurance?
Last updated in July 2022.