Subpar Aviation SMS Training Courses Are Worthless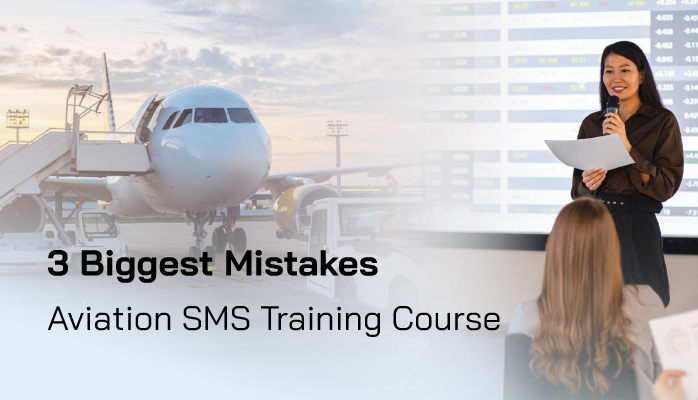 Finding quality aviation safety management systems (SMS) training can be tricky.
Like any industry, the aviation industry is rattled with subpar training courses. Generally, these SMS courses are subpar because for consistent reasons. Mainly, this is because new training courses are usually modeled after existing courses from the traditional safety program, which means the new courses inherit the same mistakes in the regurgitated or recycled materials.
Subpar aviation safety training is hardly useful. It can even have undesirable impacts on your safety culture:
Give the impression that SMS training courses are a waste of time and money;
Creates complacency about safety concepts, hazard identification activities, and safety reporting behavior; and
Communicates to employees that the aviation SMS is not taken seriously by management, just like the traditional safety program.
Related Aviation SMS Training Articles
The three most common aviation SMS training mistakes are:
Hyper focus on risk management ideas and concepts rather than application;
Training material with boring presentation (such as too much lecturing) or irrelevant (too much conceptualization of material rather than real-world examples) and
No testing to ensure that the SMS course actually improved hazard identification capabilities and risk management fluency.
If your organization is looking at aviation SMS training courses, it's extremely important that you are hyper-vigilant for any of the following mistakes that appear in the training curriculum. If your organization is creating SMS training courses, then avoid these mistakes at all costs.
1 – Not Enough Application of SMS Concepts
Too much focus on concepts is without question the most common mistake in aviation SMS training courses. Just look at the syllabus of countless SMS training courses, and their learning outcomes will be things like:
Understand X idea;
Comprehend Y concept; and
Know definitions for A, B, and C.
Such syllabi often have little to no learning objectives that involve:
Being able to demonstrate X idea;
Practical application of Y concept; and
Being able to identify A, B, and C in the operational environment.
The primary difference between both types of syllabi is that concept/definition/idea-based training courses will always be more forgettable because they train on an academic level rather than a functional level.
In order for training to be useful for aviation SMS implementations, trainees need to understand functionally how training material fits into their daily activities. This simply does not happen in academic training environments.
When seeking out SMS training courses, ensure that your company's money and employees' time are spent on useful training activities. The keywords you should be looking for are demonstration, application, identification, and other active verbs.
Related Aviation SMS Training Articles
2 – SMS Training Courses Are Boring or Irrelevant
Boring or irrelevant SMS training courses have a close relationship with training that hyper-focuses on concepts and ideas. A great way to tune out employees is through:
Content that centers around concepts and ideas;
Poor presentation of training material (such as too much lecturing);
Training content that is hard to "apply" to real-world, operational experiences; and
Lack of hands-on exercises.
The idea behind providing any SMS training course is that employees will be using it in the real world to improve both operations and safety. Listening to somebody lecture about risk management concepts is sort of like watching someone else fly an aircraft. It's much more useful, fun, and most importantly interesting to do it yourself.
Something that any educational course runs into trouble with is:
Putting learning outcomes above participation; and
Putting content above presentation.
Training courses will often try and cram every piece of relevant content into the training course. This makes for an SMS course that is rushed and "information overload." SMS courses are much more successful when they:
Focus on less quantity, higher quality material;
Explore concepts in more depth; and
Have lots of time for application practice and/or questions.
Training courses that follow these guidelines will be more fun and leave trainees with the impression that they learned something useful.
3 – No Competency Testing
Aviation SMS training courses must feature risk management competency testing. Competency testing is the only way to evaluate:
The effectiveness of training courses;
The current proficiency level of each employee (and the whole organization) on training material;
The amount of improvement over time.
Moreover, if competency testing is done before and after, organizations can track the rate of improvement for each course.
Related Aviation SMS Training Articles
Final Thought: Building Culture through Aviation Safety Training
Ultimately, safety performance and safety culture are nearly the same. Resilient, adaptable, high-performing aviation SMS implementations all feature mature safety cultures.
Safety culture can be cultivated by quality SMS training courses because:
SMS training is the best way to expose employees directly to the benefits of implementing aviation SMS;
Training can generate elevated interest in safety risk management processes if done properly; and
Give an incentive for safety behavior without being "forceful" or punitive.
Delivering Aviation SMS Training Courses
Not all SMS training courses need to be delivered to employees in formal classroom settings. When most employees speak the same language as your SMS training materials, you can provide this training using the Internet.
Delivering SMS training using the Internet is most convenient for the employees and the SMS training budget. SMS Pro has an SMS training system that automates initial and recurrent SMS training requirements. We do provide SMS training content that you can use in your own SMS training courses.
Do you need some quality content for your SMS training course? Here are some videos to add some spice to your SMS training.
Last updated June 2023.