Regulations for Monitoring SMS Effectiveness Are Vague
Effective monitoring of aviation safety management systems (SMS) by regulators and service providers is critical to the protection of:
Passengers;
Equipment;
Environment; and
Reputation of the aviation industry.
Civil aviation authorities (CAA) are required to provide oversight to ensure implementation of aviation SMS programs is performed properly and not merely an exercise to "check the box." Your CAA requires that you monitor the progress and continuous improvement of your aviation SMS program.
Regulations are never specific as to how you are supposed to conduct such monitoring. This has both advantages and disadvantages.
---
Advantages of Generic SMS Monitoring Requirements
When your CAA is not specific about how to monitor your SMS program, you can be assured that there are multiple approaches to SMS monitoring and each approach will vary depending on multiple factors.
Just as an auditor should not tell an aviation service provider how to correct a finding, regulators should not be telling you how to correct the finding, but merely telling you whether you have met SMS requirements. In most cases, they will offer "suggestions." To avoid a long, drawn-out battle, the operator will commonly accept the suggestion merely to quiet the SMS auditor. Without fail, this scenario plays itself out repeatedly across the world and in different cultures. Did you think your difficult, recalcitrant auditor was any different?
Dealing With SMS Auditors Requires Experience
One of the most common challenges is that when the operator complies to the "suggested corrective action," the next auditor from the same agency may have a completely different "suggested corrective action." This is among the top of frustrating stories I hear from inexperienced safety professionals. The experienced safety professionals know how to effectively deal with auditors (most of the time).
Technology May Baffle Some & Not Demonstrate Compliance
During the past ten years, the number and complexity of aviation SMS databases have grown dramatically. More products come onto the market that make the older systems look like dinosaurs. I remember the days when AQD was the "talk of the town," but today, most agree this tool is:
Outdated;
Too difficult to use; and
Not designed to meet SMS requirements.
Not only are the databases becoming more complex, but also the user interface. Since IPad came out in 2010, most users have come to expect their SMS databases to be accessible by mobile devices. In short, SMS database programs have moved from being used solely on the desktop to being used on whichever device can support an adequate Web user interface. Smart watches may not be a good tool to monitor your SMS program, but laptops, tablets and smart phones are certainly expected to allow aviation safety professionals to monitor their SMS programs.
Changes in technological complexity and how service providers operate create new challenges for both your CAA auditors and your company safety and quality professionals to effectively monitor your SMS program. Some of these challenges stem from the lack of SMS auditor experience with newer technologies. Most auditors I know have gray hair and carry around a pen and clipboard as their weapon of choice.
When service providers have newer, sophisticated SMS database programs that allow all SMS data to be managed in a centralized database, showing the auditor how "you do your SMS business" can become a challenge in itself. You have to tactfully demonstrate your system without overwhelming the SMS auditor.
Experienced safety professionals should focus on how their tools demonstrate compliance. Don't show your SMS auditors all the bells and whistles, such as automated: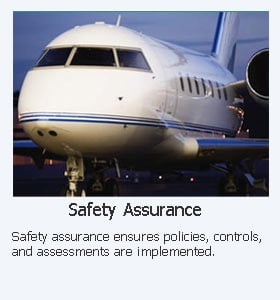 Alerts;
Trend monitoring; or
Escalation features.
For the common SMS auditor who was born in 50's or 60's, your sexy, sophisticated SMS database program will intimidate them. Your sexy, centralized data management program will certainly save you time with not only managing your SMS documentation, but also with your SMS audits. Guaranteed! Just remember to not overwhelm the mortal SMS auditors because nobody likes to "think too much," unless you are a software engineer who is developing these systems.
Increasing the use of electronic record-keeping systems for your SMS documentation and statistical assessments presents opportunities for alternative approaches to SMS performance monitoring. These alternate approaches also improve the quality and efficiency of both:
Management oversight of your SMS program; and
CAA oversight into your SMS implementation.
Every CAA should be encouraging service providers to develop SMS performance monitoring protocols to manage important operational risks and demonstrate continuous improvement. How is this monitoring done?
Most Important Question Regarding SMS Performance Monitoring
Safety managers often ask for guidance regarding safety performance monitoring. When these questions arise, they ask me:
How is it done?
What should I show them?
How much should I show them?
To answer this question, you have to ask that single, most important question:
What are you trying to measure?
In short, SMS performance monitoring should mean something different to you depending on your current phase of the SMS implementation. Are you in Phase 1? Maybe you should be focusing on planning your SMS implementation and getting your team together?
Are you in Phase 2? Then your SMS auditor is probably interested hazard reporting your your risk management processes.
During Phase 3 of your SMS implementation, your SMS will be maturing, so the bar will be raised higher. Regardless of the implementation phase, you always need to be asking yourself and your SMS auditor, what are we trying to measure or demonstrate? This allows you to focus in what really adds value.
Finally, when it comes to safety performance monitoring, if you cannot measure it, it becomes impossible to demonstrate continuous improvement. To easily measure AND to easily demonstrate compliance, you should be thinking of a commercial-off-the-shelf (COTS) aviation SMS database program. In the long run, this is what will:
save your company money;
help you demonstrate compliance; and
offer assurance to accountable executives that their SMS program is being managed effectively.
---
To effectively demonstrate compliance for all four phases of the SMS program, we recommend the Safety-Quality Assurance Solution.
Each system is only as good as it can monitor the individual elements. Employee performance monitoring allows you to monitor whether your employees are participating in your SMS program.