Three Stages of Aviation SMS Compliance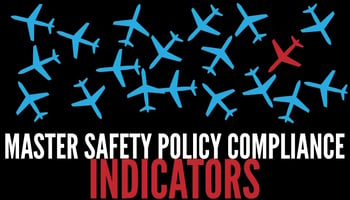 There are three levels in the hierarchy of aviation SMS compliance, each with varying degrees of safety performance. Arriving at even the first marker of compliance can take years.
Aviation SMS safety policy will be the first area that organizations focus on for achieving compliance in phases I and II in aviation SMS implementation.
The three levels in the hierarchy of aviation SMS compliance hierarchy are that the compliance elements:
Exist in the SMS bureaucracy and are suitable;
Exist in the operational environment and are effective in promoting safety performance; and
Demonstrate industry best practices for excellence.
Of the safety assurance, safety risk management, safety policy, and safety promotion cornerstones, safety policy is without question the easiest to attain total compliance. Here the indicators that demonstrate mastery of aviation SMS safety policy compliance.
Indicators of Safety Policy Compliance
Aviation safety policy reflects your organization's, in particular the accountable executive's, commitment to safety. Safety policy should be a concise, clear, available document. Indicators of compliance are:
You have a safety policy document that includes a commitment to:

safety,
accountability,
standards,
continuous improvement,
best practices, and
resource provision;

Safety policy is signed by the accountable executive;
Your SMS program is based on your safety policy;
Accountable executive and upper management demonstrate safety policy be participating in the SMS program;
You have documentation that the safety policy has been communicated to all employees;
The safety policy actively encourages safety reporting;
You have documentation showing that the safety policy is periodically reviewed; and
You identify clear grounds for disciplinary action.
For each identifier, you should indicate how/where in your policy the identifier is satisfied.
Indicators of Safety Accountabilities Compliance
Safety accountabilities in aviation SMS programs involves establishing who is accountable for what. This will include the accountable executive, management, and other roles. Indicators of compliance are:
An accountable executive has been designated and documented who:

controls HR and financial resources;
has full responsibility for the safety program, and
accepts their role as arbiter of the safety program;

Accountabilities, authority, and responsibility is defined and documented for all roles in organization;
All personnel are aware of their safety duties and responsibilities; and
You have documented safety management diagrams/descriptions, such as a safety org chart.
Lack of documentation for safety accountability is often a source of audit findings for service providers – and an avoidable source of findings.
Indicators of Appointment of Key Safety Personnel Compliance
Appointment of key safety personnel ties in very closely with accountabilities. However, this requirement is to ensure that key employee-roles exist within the SMS program, including:
A competent person with correct safety requirements is selected as safety manager;
There is a direct line of communication between the accountable executive and the safety manager;
The safety management system has been allocated sufficient resources for safety performance;
All personnel are kept current with training requirements; and
If applicable, a safety committee is created, is chaired by the safety manager, and practices oversight operations of the SMS.
Indicators of Emergency Response Planning Compliance
Emergency response planning and coordination is an extremely important element in risk management programs. They can be stress-tested by doing drills, and they provide employees with model behavior in high-stress situations. Indications of compliance for ERPs are:
You have emergency response plan (ERP) that reflects the scope, complexity, and relevant safety concerns of your organization;
Your ERP includes key personnel to contact in each emergency situation;
The have documentation that the ERP has been communicated and distributed to all employees; and
You have documentation proved that emergency response drills are being practiced to test the ERP.
Emergency response drills can literally be the difference between safety and destruction of life or equipment.
Indicators of Documentation Compliance
SMS documentation requirements are solely concerned with organizing your company's policies, procedures, objectives, etc. Organizations which choose to have a Safety Management System Manual (SMSM), their documentation will take up most of the SMSM. The indications of compliance are simply:
Documentation exists that describes SMS elements and how those elements are related to each other;
Each element of SMS documentation is regularly reviewed and updated where needed;
There is evidence that the operational environment closely reflects SMS documentation designs; and
SMS documentation is available for all personnel.
Documentation is where programs in Phase 1 of aviation SMS implementation will spend a majority of their time developing.
Final Thought: How to Organize your Safety Policy
A good idea is to keep all SMS compliance elements within the Safety Policy pillar in one location, such as a binder, online server, of aviation safety software. This allows you to:
Easily manage all of these elements;
Easily hand over a large chunk of requirements to SMS auditors in an understandable format; and
Provides an easily accessible location for employees to access it.
---
For more compliance information, the following compliance resources for the FAA should prove very useful.