High Expectations and Fear toward Safety Database Complexity
Each day, I speak to at least four safety managers as they search for an aviation safety database solution to satisfy their ICAO SMS or regional civil aviation authority (like FAA, Transport Canada, EASA, CASA) SMS requirements.
Safety managers are apprehensive
to make the wrong decision as to which SMS software solution to choose;
whether their SMS database is flexible to change as their company changes; and
about what is required of them once they choose their safety database.
All safety managers know that the solution they choose will be better than what they currently have, whether their existing aviation SMS solution is:
Paper-based;
Excel spreadsheets;
Home-grown Web solution cobbled together by power users; or
MS Access database created by a long-gone employee who had a clear vision.
In this article, we go through the steps an SMS Admin would go through when setting up their aviation safety database.
This article will serve four purposes:
Help safety managers set up their new aviation SMS software;
Guide researchers as to features of a full-featured SMS database solution;
Educate safety professionals as to what their existing systems may be missing; and
Ease the fear safety managers have when considering new aviation safety solutions.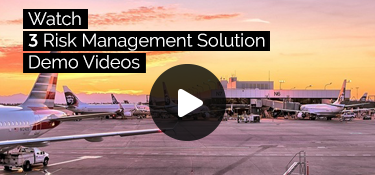 Accessing the Safety Database
The most popular aviation SMS databases are Web-based. They are accessed by entering URL into the address bar from most modern Web browsers. The safety application is secured from unauthorized access. Users enter the SMS program using a username and password.
Security and permissions are based on roles, which are given to users by an administrator.
Regular users don't need to see all the functionality of the database that should be normally needed by department heads.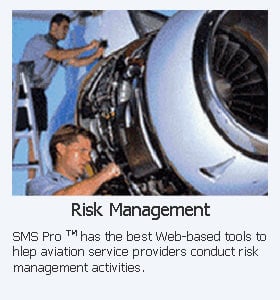 Regular users commonly need to see:
Along the same token, department heads don't need to see all the configuration settings. Nor do you want department heads messing with your configuration settings, else your aviation SMS database will be an incongruent mess.
Who Controls Aviation Safety Database Solutions?
At a minimum, you will need one SMS Admin. Best practice dictates that there will be two SMS Admins, in case one is hit by the bus (leaves to work for your competitor). We see at least two SMS programs fail each year because there is not a backup SMS Admin or backup safety manager.
If your airline or airport does not have the resources for a backup safety manager, there are two alternatives:
Engage a part-time safety manager and assign these duties as an extra "part-time" duty; or
Heavily involve managers in your safety program so they can pick up the slack should the safety manager leave.
The second alternative is a best practice. If your department heads are not actively involved in the SMS program, then you do not have an SMS program. It is a shell. The shell will crumble as soon as you leave the company and you did not do your job to ensure the SMS program would survive.
Aviation SMS Training Is a Requirement
At least one SMS Admin needs to have access to the aviation SMS database to perform the initial setup. Other users in the organization will normally have a "Not Inducted" role that severely limits their ability to interact with the safety software.
All ICAO compliant SMS programs require safety training based on the role the user plays in your airline, airport or maintenance organization's safety program.
It is a best practice to limit user access to the safety database until they are trained. Your safety software should be able to manage this requirement with ease, including automatically assigning users the correct permissions once a manager confirms that the user has completed initial SMS training.
Here is the general workflow for a typical SMS induction during the initial setup of your safety database. This induction process satisfies your initial SMS training requirement.
Users are imported into the database (New users automatically assigned "Not Inducted" role);
Users are assigned to a specific division (if you have more than one division);
When users are imported, they will have a generic password that allows them to access the SMS database solution. It is not recommended that users are contacted immediately when they are imported. SMS Admins still have other setup tasks to complete. By not contacting the users at this time, you will not have curious employees logging in before you are ready for them.
Developing Your Initial Aviation SMS Training
Every company is different and there are many industry segments that are required to have aviation SMS programs, including:
Airlines;
Airports;
Aviation maintenance;
FBOs;
Aircraft manufacturers;
Air traffic control; and
CAAs' state safety programs (SSPs).
In addition, the size of these companies may range from 20 to over ten thousand. The level and complexity of this initial SMS training are up to your company. But we have a recommended SMS training program for the SMS induction process. There is also a template available at that resource.
The Complexity of SMS Induction Training Program
Initial SMS training should not overwhelm your users. After all, you don't want all the employees to have a sour taste in their mouths toward your SMS program. There is a fine line between being thorough and alienating your employees.
Here are some recommended best practices for your initial aviation.
Keep it simple.
Keep it short.
Keep it fun (if possible).
Automate the process.
Use videos when possible.
Validate or confirm employee induction process.
Document for the SMS auditors.
SMS Software Setup Tasks Happen Concurrently
In most cases, you will find that SMS setup tasks take time, such as:
Many of these tasks are dependent on other managers who may be dispersed across the country or world. Therefore, safety managers must be adept at multi-tasking.
Lessons Learned for Setting Up Aviation SMS Database Programs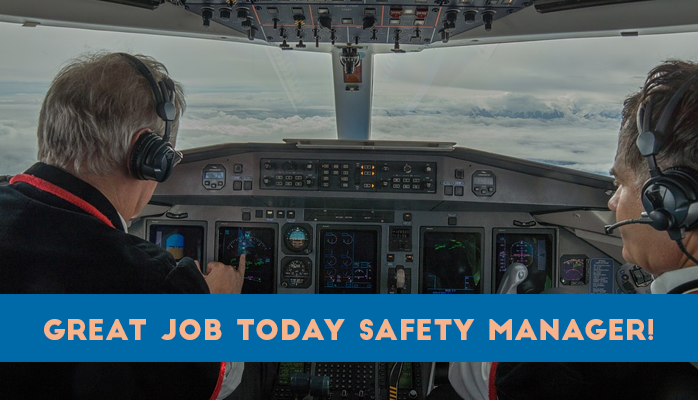 Aviation SMS implementations are marathons and not sprints. The majority of safety managers are type A personalities, which means they are:
Hardworking;
Expect results quickly; and
Expect others to be as responsive as they are.
Take it easy. Each year, you will be reviewing your SMS program. Regular reviews offer opportunities to make changes. You will NEVER get it perfect the first time because:
Your perspective will change;
Environmental pressures will change;
The focus of audit requirements will change; and
You guessed it, you cannot foresee details of "change."
Final Thoughts on Setting Up Aviation SMS Database Solutions
Not every SMS database is exactly the same, but by now, they have grown to share the same basic features.
Some SMS database solutions have more features. What you choose is up to your needs and available budget. The cheapest solutions may satisfy your needs in the short run, but an aviation SMS database is going to be with you for many years.
When you choose an aviation SMS database solution, you should ensure that:
The system demonstrates the ability to change with your unique needs;
Technical support is readily available;
Customer reviews are adequate; and
The system has the ability to help satisfy all ICAO SMS documentation requirements.
This article was not meant to be promotional by any means. My goal is to educate safety managers as to what to expect after they choose an aviation SMS database solution.
---
If you already have an aviation SMS database program that you wish to compare, check out our solution. A live demo is useful to ask questions and learn more about the SMS requirements and see how others are managing these SMS requirements.