What is Aviation Safety Policy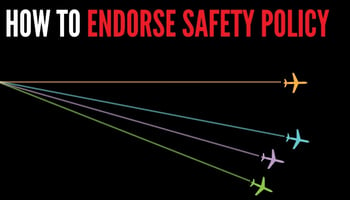 Having an aviation Safety Policy is a compliance requirement for in aviation SMS.
The purpose of your safety polity is, as ICAO notes, to "Describe the organization's intentions, management principles and commitment to improving aviation safety in terms of the…service provider."
Your Safety Policy should give employees and other stakeholders a clear view of:
What your organization values in terms of safety;
What your organization is committed to in terms of safety; and
Important resources (policies, procedures, accountabilities) related to safety.
Further criteria outlined by ICAO for your Safety Policy are that it should:
Be in size and complexity commensurate with the size or your organization;
State organizations intentions, principles, objectives, and commitments;
Be signed by accountable executive;
Be promoted by executive and other managers;
Be reviewed periodically;
Involve personnel at all levels of the SMS; and
Be communicated to all employees in organization.
Endorsing your Safety Policy means that your organization needs to rigorously follow through with enacting these points. Here is some more detail on endorsing your Safety Policy.
---

---
Resource: Writing an Aviation Safety Policy
How Big Should Your Safety Policy Be
While ICAO states that your Safety Policy should be based on the size on complexity of your organization, in actual practice most of your Safety Policy will be similar in size to the Safety Policies of other organizations, regardless of size.
Why?
Because much of your Safety Policy will be filled by static items that are the same size, such as:
Each organization's Safety Policy need to include such items, and they will hardly vary in size. Where we really see differences in complexity and size of organization's Safety Policy are:
Larger organizations will need account for (i.e., document) many more moving parts. As such, they will have a great number of roles, responsibilities, and accountabilities that interact in complex ways. Larger organizations will have more procedures, processes, and policies to help guide employees. Smaller operations, with less employees and a less diverse operational environment, will need to account for less.
As long as your documented resources, processes, policies, and roles/responsibilities and accountabilities reflect actual operations, then your Safety Policy will naturally be the right size (assuming you have static-sized elements as well).
Resource: 5 Elements of ICAO's Safety Policy
What Should Be Included in Your Safety Policy
Though we have already touched on this, some important items your Safety Policy should include in your aviation SMS are:
Key commitments, such as:

CEO commitment to safety
Organizational commitment to safety
Voluntary and mandatory reporting

High level company goals
Specific company safety objectives that help SMS reach goals
Safety org chart
List key personnel, including:

Accountable executive
Safety manager to maintain SMS
Safety committees
Other important personnel

List all roles in your organization, including the safety responsibilities and accountabilities of each role
Important safety resources, including SMS:

Policies
Procedures
Checklists
There may be more items you should include in your Safety Policy, but these items cover the core elements.
Resource: 4 Pieces of Safety Policy Your SMS Should Have
How to Sign Your Safety Policy
Your accountable executive needs to sign the Safety Policy, in ink, after reviewing it. This is his/her way of giving their seal and final approval for all items in the Safety Policy.
It's a good practice for the accountable executive to review, date, and sign the Safety Policy every year.
How Often Should You Review Your Safety Policy
There are two ways of looking at how often you should review your Safety Policy:
Periodic review; and
Ongoing review.
On the one hand, we recommend that key personnel, such as a committee, accountable executive, and safety manager, review your Safety Policy once per year. This review should be thorough. Any outdate pieces of the policy should be updated.
That being said, your key personnel should be doing micro-reviews every time they access the Safety Policy. In this type of review, if someone notices an anomaly in the Safety Policy (such as out dated information) the document should be updated accordingly.
One good practice for reviewing your Safety Policy is to perform an internal audit on your policy either once a year or before an external audit.
How to Involve All Personnel in Your Safety Policy
There are a couple important ways for how to involve personnel in your Safety Policy:
Ensure that all roles are listed in your policy;
Include the policy in your initial and recurrent SMS training; and
Ensure that employees review the Safety Policy at least once per year.
Encourage employees to speak up about concerns or if they notice any incorrect information. Transferring some of the responsibility of Safety Policy review to employees is an excellent way to involve them.
How to Promote Your Safety Policy
Promoting your Safety Policy is simply a matter of referring to it constantly, such as by:
Referring to it when employees ask questions;
Including it in initial and recurring SMS training requirements;
Mandatory review of policy at least once per year;
Bringing up policy in meetings, newsletters, safety surveys, etc.; and
Making the Safety Policy readily available at all times.
The mistake most companies make is that they finish their policy and let it sit on a shelf to gather dust until the next review. Your Safety Policy should be active in your operational environment and should be reviewed constantly by all members of your organization. This is the best way to communicate and promote your policy.
In consequence, promoting and communicating your Safety Policy is an excellent way to endorse it.
Final Thought on Endorsing Your Aviation SMS Safety Policy
As discussed, endorsing your Safety Policy is largely about ensuring that your Safety Policy is:
Complete;
Active; and
Held in esteem by your company as the "bottom line" for safety information.
---