How to Improve Safety Culture in Front Line Employees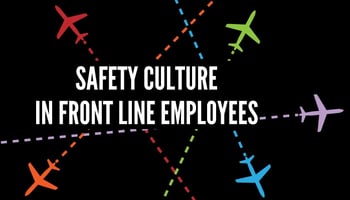 As a current aviation maintenance technology student and worker in the aviation maintenance field, I get to experience both the school and the workplace safety cultures. As mentioned in a previous post, the meaning of aviation safety culture is:
Less a practice in philosophy, but

More a recognition of what it looks like in actual practice.
During my interactions with management, professors, fellow students, and fellow employees, I have come to believe that leaders in both the workplace and the classroom must encourage the following traits to encourage safety:
Practice transparent communication;

Engage front line employees; and

Challenge employees.
Here is what these points looks like in real aviation safety management systems.
Why Transparent
Communication
is Critical
Without open and clear safety communication from managers, it is impossible for front line employees to determine how to improve from mistakes.
As a maintenance technician, mistakes happen:
parts get broken,

damage to tooling occurs, and

other unfortunate scenarios arise.
What is important is that these incidents are not taken as opportunities to blame someone but instead as learning opportunities where the cause is identified, a remedy is developed and action is taken.
Without clear and open communication this process would not work.
How to Engage Front Line Employees
Apathy is an aviation Human Factor killer. Engaging front line employees is about focusing promotion at the grassroots level to empower those employees.
It is easy to think that safety is the responsibility of the faculty or management. However, many of the safety actions that we take every day (like wearing safety glasses) are owned by us and help form an integral part of the safety culture.
If we weren't responsible for taking measures like reporting unsafe conditions or being assertive about a dangerous situation there would be many more injuries and deaths in the aviation industry.
In the maintenance sphere of the aviation industry the mechanic is ultimately responsible for the work that he performs. This places a high amount of responsibility on one person, but it does not preclude them from doing safe work in a timely manner because they are not alone and have the ability to engage other mechanics or management if they have questions.
How to Challenge Employees and Fight Apathy
It is easy for both people and organizations to become complacent over time to the hazards that often lurk unseen. Keep employees challenged to keep complacency at bay.
Personally, I always try to double or sometimes even triple check my work to find any faults that may exist in it. I challenge myself to learn something new, be humble, and ask others to help and check my work. Because I am so new to the industry, I find myself having to ask questions and continuously check my knowledge.
---