Why You Maybe Shouldn't Trust Your Aviation Safety Manager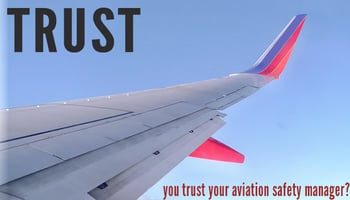 You depend on your safety manager to monitor and improve safety in your aviation SMS program. You trust them to act in your best interest – to do the right thing for you.
But the unfortunate fact is that many safety managers do not have your best interest in mind. Far too many aviation safety managers make decisions for entirely wrong reasons:
To cut costs;
To lessen their workload; or
To take care of things "outside" the program so they don't look bad.
They inadvertently expose you to risk for their own sense of personal gain. These safety managers are:
Executives making company wide decisions;
Department head making decisions within a department; and
Aviation safety managers, making decisions about safety policy, procedures, implementation, and risk management tools.
It's not that you need to suspicious of your management, but don't take their position in the company at face value.
How is your Safety Manager Building Trust?
Now is a good time to start asking questions about your safety managers' decisions and behaviors:
What safety services are they providing me that improve safety?
Do their decisions benefit themselves more than me?
Do you get the impression they are committed to doing what is necessary to improve safety?
Do they listen to you and act on your suggestions?
We have been working in the aviation industry for close to 15 years. We saw what safety programs were like before widespread adoption.
There have been rapid improvements since we started, as aviation oversight agencies continue to take a much more active role in airlines, airports, and other aviation service providers.Yet we constantly hear from our clients, affiliats, and world-wide contact list how ripe resistance is among safety management.
The New Age of Aviation Risk Management
Gone are the "good old days" where a manager could make safety decisions on a "hunch" or feeling or "experience." The new age of safety is heading towards total dependence on:
Long story short, safety managers play a significantly less "direct" role in the new age of aviation risk management. Clearly, this doesn't sit well with many aviation safety managers, and they will do things to keep the safety program based on the person (i.e. themselves) rather than the program.
In this case, they only "put up" with the SMS program because they have to. Does your avaition safety manager only develop your SMS program because they are forced to?
Signs You Can Trust Your Aviation Safety Manager
To be sure that you can trust your aviation safety manager, the 5 foolproof actions and behaviors you need to watch out for are:
Embraces (i.e., acts upon) feedback;
Regularly communicates with you in person, directly (i.e. email), or via a group (i.ee, newsletter);
Transparent communicator about mistakes, success, etc.;
Justify their decisions based on the safety program and trust in employee-performance rather than their own abilities, needs, etc.; and
Behavior is consistent.
Safety managers who constantly refer back tothe prescribed methodology of the safeyt program, and regular and transparent communicators and listeners, and are consistent in their behavior are probably people you can trust.
Does your safety manager exhibit these qualitites?