Our Goals for this Aviation Scholarship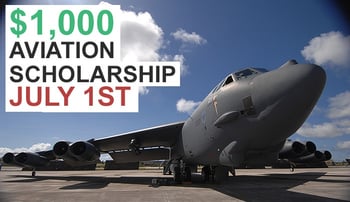 SMS-Pro's aviation scholarship was extremely successful in 2016: we received many submissions of very high quality. It's good to know that budding aviation safety professionals already have a solid understanding of what quality aviation risk management looks like. The first dealine this year for the Aviation Safety Management Scholarship is July 1st, which is only one week away! Apply yourself or share with friends who could use some extra cash to help them through their aviation education.
In 2006 the International Civil Aviation Authority (ICAO) mandated that each country require their aviation service providers to adopt a formal safety management system, and the Federal Aviation Administration has since made similar requirements. Since that time, SMS-Pro's primary mission has been to be at the forefront of aviation safety performance, philosophy, and success. Aviation safety is not created by one, or even a handful of people, but by every member of an aviation organization.
For these reasons, this aviation SMS scholarship strives to support developing students at every level and in all areas of the aviation industry.
Eligibility for this Aviation Scholarship
To apply for the Aviation Safety Management Scholarship, applicants should:
Be currently enrolled in an aviation program at a university, college, or training program;
Be involved in the aviation field, such as for safety management, piloting, maintenance, traffic controlling, etc.;
Be able to speak English.
We also understand that getting your foot in the door can be difficult, and we encourage students wishing to attend an aviation training program to apply as well. Thus far, we have been encouraged by the diversity of interest we have seen thus far in terms of cultural diversity and working diversity in the aviation field.
Applying for the Aviation Safety Scholarship
To apply, students must choose 3 aviation safety topics from the following list, and write a 500 page personal essay (such as an essay or blog article) for each topic:
Discuss ways to help encourage participation in aviation safety programs;
In your opinion, what are good aviation safety management practices for your particular area of aviation study?
Discuss the mindset it takes to be successful in aviation risk management;
In what areas do you think aviation safety management systems can drive future improvements in the aviation industry?
How and why is aviation SMS important for your particular discipline of aviation study?
In your opinion, what is safety culture in the aviation industry? What does it look like?
What do you consider the primary motivation of safety management systems in aviation – i.e. what specifically (more than just safety) does SMS address?
Which aviation SMS training values are most important to your area of aviation study
Our biggest concern with the articles is that they show the applicant's personality and experiences with aviation safety shine through. Once students have written their personal essays, they need only submit them through our online form.
Scholarship Deadline and Reward
As said, deadline is on July 1st and the winning applicant will receive an award of $1000. Should you miss this deadline, the next one will be on December 1st. Click here to see the aviation scholarship information page.
If you are an aviation student interested in applying for the scholarship, please feel free to contact us.